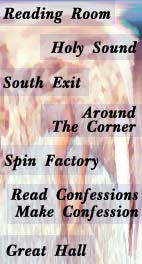 A brief tour:
Home to all of the major spiritual documents on the Duck. Resources to get to know the Duck better and to find your own inner Duck.
Hear the glorious sound of the Duck. It may very well bring you enlightenment.
This is the place to confess your sins, your transgressions, and your Duckiest thoughts to the Popes, the Duck, and the entire world! Confess. Read the Confessions.
Other Ducky places on the the Internet.
Other spiritual centers on the Internet.
Announcements about what's new in the Center for Duck Studies.
Links to sites that bring us new visitors.
In sooth be it said, "The DUCK!"
Yes, the Duck, indeed.