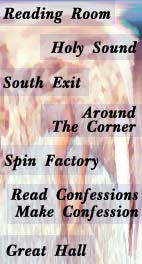 Around the Corner: to Other Religious Centers
These sites are listed because they may be useful in your further spiritual development, whether you choose the path of the Duck or not. We don't take any responsibility for their content, but then again, we don't take much responsibility for our own, either.
Directions: Follow the yellow line until you come to the blue one then turn left and walk about 300 meters, where you will find the blue one splits into two paths. Take the one that goes to the right and you'll come upon...
an easy-to-swallow religion...
Rutabaga studies for the rest of us...
Zen and the art of motorcycle journeys through India.
Index to
Jason's
other Pages: